DIY Homemade Lemon Hand Scrub
I have to be honest and say that I do not even recognize myself anymore these days. I have done a lot of research lately on becoming a better wife, mom and homemaker for my family. I have also been praying a lot for God to make me more creative and talented in all areas of life, especially with my homemaking skills. I am not a DIY kind of person by nature, so this has been a struggle most of my married life till now. Well, God definitely heard my prayers and He has changed me into a DIY & making things homemade loving girl!
I absolutely love to make my own hand scrubs now, especially when it's a lot cheaper to make the same products as the expensive ones.  I love using organic and fresh ingredients in my scrubs to make my hands smell wonderful. Well, I played around in my kitchen last night and made  homemade lemon hand scrub. I used mostly organic items (see pictures below).  You will absolutely love how soft your hands will feel after using this scrub.
Recipe : See picture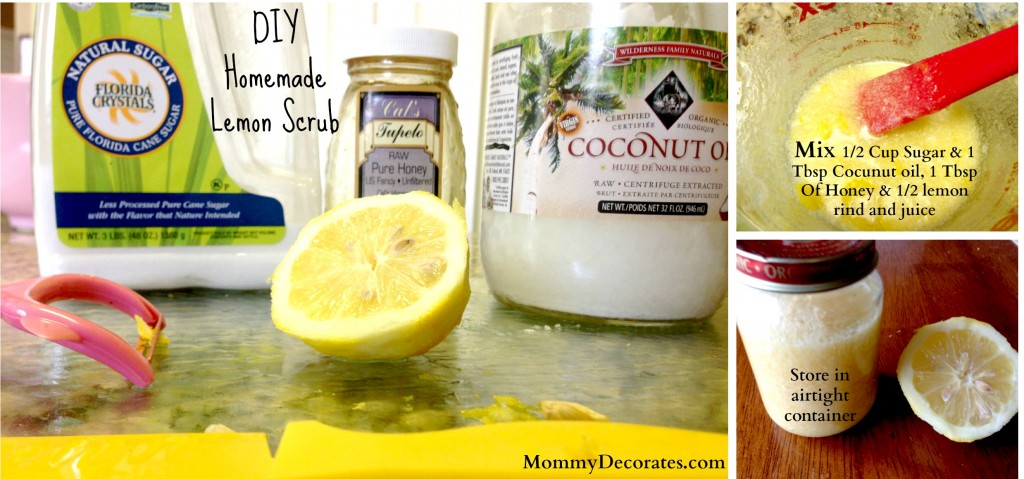 Tip
Use organic lemons and wash them before using.
Decorator Tip
Use a small baby food jar or mason jar to store your lemon scrub. You can also make cute labels to place on your jars and give the lemon scrub away as gifts.
Coming Soon: I will be showing you how to label decorate those boring jars and make them cute! Check back with Mommy Decorates!
Buy Some Of My Favorite Natural Products Now