It's Easy
Real Food: Making Homemade Almond Milk
Entertaining
I have scoured the internet looking at lots of children's birthday parties over the last couple of months and noticed that they always use milk glasses or small jugs as part of the decor. Well, why not make your own almond milk instead of using cows milk to serve in those adorable milk glasses or jugs to your big and small guests this year. 
Tip
Add a teaspoon of organic vanilla or cocoa (start off with 2 tbsp and then add as much as you like for taste) to the homemade almond milk to make it sweet!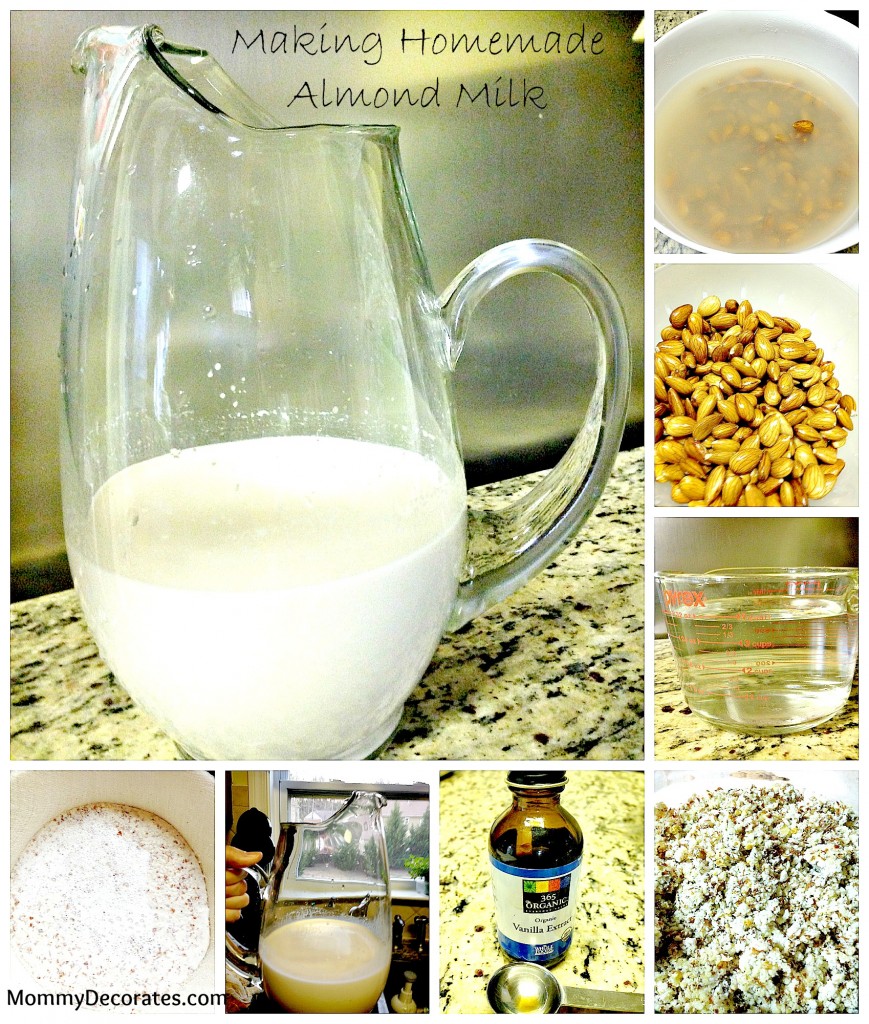 My Family
My family absolutely loves almond milk, so I was very excited to find an easy recipe for making homemade almond milk.
How I did it
I soaked my almonds (1 cup of raw organic almonds) in purified water for 2-days (48 hours) and then drained them (see the milky looking almonds in the picture below).  I drained the almonds and then gave them a quick rinse (use purified water again).
Next, I poured the almonds into my blender along with 4 cups of purified water and blended the almonds up till they became a frothy / milky mixture (depending on the size of your blender, you may want to pour 1/2 your almonds and 1/2 the water into the blender at a time to prevent it from overflowing). 
I emptied my blender contents (almond froth)  into a cheese cloth and squeezed all of the excess milk out into a bowl.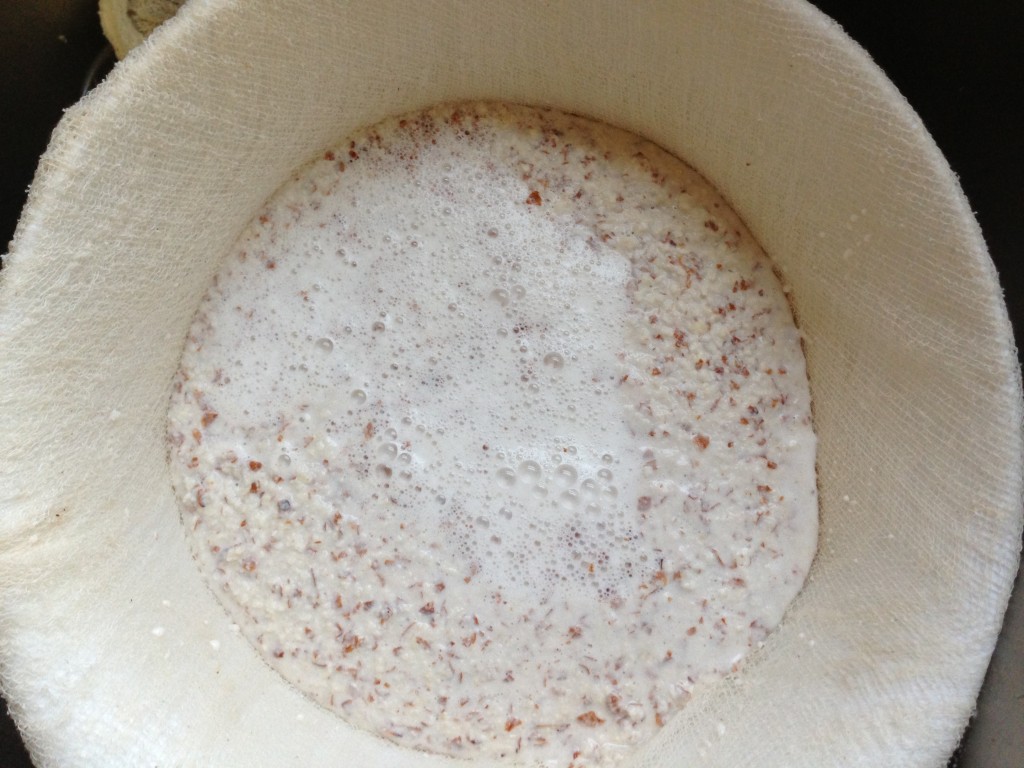 I had a cheese cloth filled with crushed almonds and a bowl full of almond milk. 
I added a teaspoon of organic vanilla to my almond milk to make it taste sweet and a pinch of salt.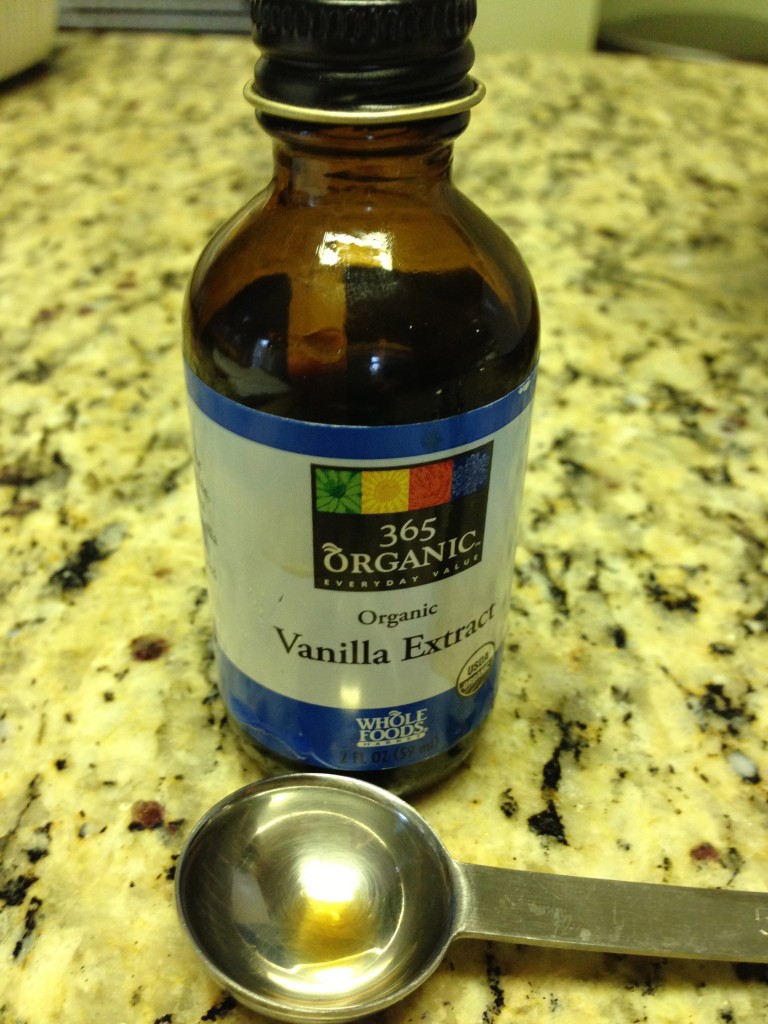 Leftover Almond Mill
I didn't want to throw away my almond mill (crushed almonds in my cheese cloth), so I took the almond mill and spread it across parchment paper and baked it on 350 degrees for 15 minutes to create fresh almond mill for use at a later time.  

Storage
I stored the almond mill in a freezer bag and placed it in my freezer. I will eventually store the almond mill in a freezer safe mason jar, but I haven't made it to the store yet, so a gallon size freezer bag will work for now.
Tip
You can use the leftover almond mill for face scrubs and other baked goods. Just scour the web for ideas. 
Gift Idea
You can buy really cute milk jugs or use mason jars with lids (just make sure to find jars, jugs or glasses have lids) and pour your almond mill into it (*Tip*  you may want to buy a mason jar that is freezer safe, so it can be stored in the freezer).   Next, attach a cute recipe card / instructions on how to use the almond mill! 
Almond Milk Instead Of Coffee Creamer : Everyday Use
I poured my fresh almond milk and organic agave (kind of like honey) into my coffee this morning and it tasted amazing.