Easy Fall Burlap Unfinished Project
I will complete the project during our class


I am so excited to announce that we will be making 2 craft projects on October 7th!
Our 1st craft project – We will be making an easy Fall burlap picture that you can put on your fireplace mantel, hang on the wall, display on your bookcase or anywhere else because the decorating ideas for this little project are limitless. You can spell any seasonal word.  I spelled out FALL on my picture (seen above), but if you go to the store and they are out of letters that spell FALL, then you could spell any other seasonal word. See my examples below of other seasonal words that you could spell on your burlap picture frame.
FALL
AUTUMN
LEAVES
COOL
CRISP
ACORN
APPLE
CIDER
Our 2nd craft project – We will also decorate a burlap bag with our leftover paint and burlap. You will need to purchase a pre-made burlap bag.
What you'll need to make our easy Fall burlap picture:
Where to buy everything: 
1st Craft: You can buy all of the items  at Walmart.
1st Craft: You can buy all of the items at Walmart.  You could also buy everything at any other craft store like Hobby Lobby.
Optional items you can purchase for this Fall craft project
Optional: Extra burlap! You can make different colored rosettes for this project using various types of leftover burlap ribbon
Optional: Little trinkets that are flat and easy to glue onto the canvas (buttons, bows, etc.)
Optional: You could mod lodge the letters with Fall scrapbook paper
Rosette And Felt Flower Options:
Rosette: 8 pieces of felt  to make the rosettes or you can use burlap like I did in this project (Cut the felt into strips 15 inches long each and 4 inches wide). If your felt came in a packet of a bunch of square pieces, then you can just cut them into strips of  the length of the felt square.
Flower: 8 pieces of felt to make the flower and just cut out various sized circles. I just cut out circles without a template. It doesn't have to be perfect 🙂
Left-over fabric to make your rosettes (Cut the fabric into strips 15 inches long each and 4 inches wide)
Felt Option: 
What it looks like using felt: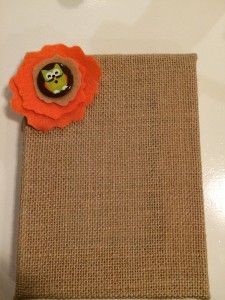 Tip:
This also makes a really cute hair bow for a little girl! Just hot glue the flower onto a clip!
Type Of Paint:
Please get this paint brand. I tried it out and it dries really fast and looks great! It's around a $1 per bottle at Walmart.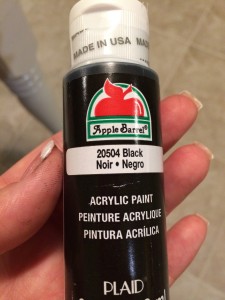 Type Of Paint Brushes: 
You can use a small paint brush if you have it on hand; However, I tried it with the foam brush and my letters were dry in about 20 minutes, so I recommend using these brushes. You can pick them up for around $1.50 a packet.

2nd Craft Project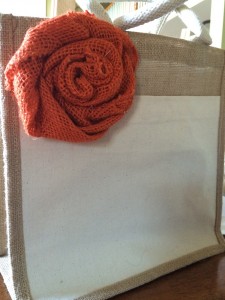 What you'll need to make our easy Fall burlap bag:
Burlap bag (Around $5)
Leftover burlap from craft project 1
We will use leftover paint from picture above and left over burlap to make rosettes.
Where to buy everything: 
The 2nd craft: You can purchase the bag (shown in picture below at Hobby Lobby) or you can purchase a little canvas bag at Walmart
Optional:
You can buy a large stencil of a letter in your last name to paint onto the bag.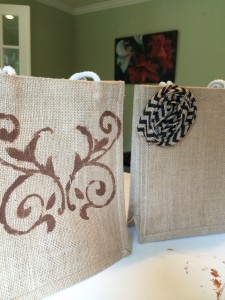 See ya'll on October 7th! If you have a question about anything then please post your questions below 🙂