MommyDecorates.com is excited to share with you bookcase ideas for your babies room and MORE! I absolutely love bookcases in a babies room. I think that they serve a great need as a space-saver and help to organize the room, but also make the room look fabulous if they are done right.
MommyDecorates Bookcase Color Tip:  Buy a bookshelf in a neutral color and then add a rich splash of color to the back of shelves.  Add a soft neutral teddy bear and pastel books and collectables.
Image via 
Houzz.com –
 I absolutely love the bookshelf color scheme in this picture
MommyDecorates.com Helpful Hints
Baby Boy's Room Ideas
DIY bookshelf made from pallets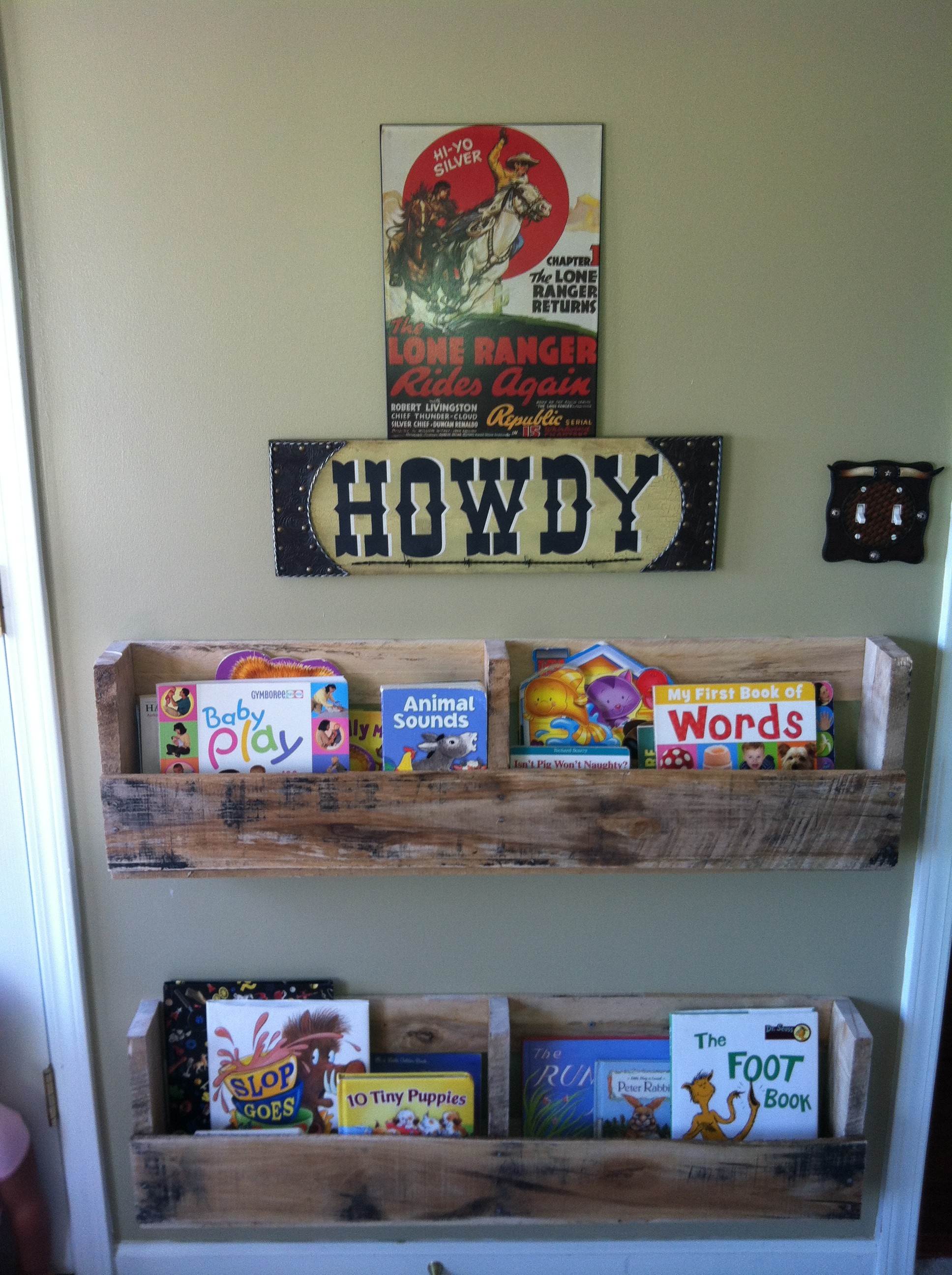 My sweet friend Kristy and her husband made this bookshelf from pallets. The bookshelves were pretty easy because they didn't even need to be broken down and rebuilt. Her crafty husband just cut the pallet pieces apart and nailed a piece of wood to the bottoms to create the actual shelf for the books to rest on. Then he screwed them into the studs in the walls.  Super sweet!  Stay tuned…later this week we will have more  boy themed nursery pictures from Kristy!
Baby Boy's Room / Nursery 
Small cubbies on the floor – This mom used the small cubbies (small bookshelf) on the floor of her sons nursery. The small cubbies are from Pottery Barn to capture all of the son's small toys.
Bookcase Ideas For A Little Girls Room
Pottery Barn – Cameron 2 Cubby and Base Set. I actually have this bookcase in my daughters room. It's so cute!
I just love how the baskets fit so nicely in the bookcase/cubbies

The little white baskets were bought at Pottery Barn Outlet for around $12 a piece and the 2 pink and white baskets at HomeGoods store for around $12 a piece.
The cute little hot pink wired bins were found at Target for just $2 a piece. Score!

Decorate the top of the bookcase / cubbies by placing 2 cute little hat boxes on top of the bookcase. The hat boxes were found at HomeGoods for around $6 a piece!
Getting Real
The bookcases look really cute when you have a baby because you can keep them neat and tidy, but once you have a toddler running around…..they turn into this …See below
Let us know your thoughts!